Universcience in partnership with the International Experimental Studio for bio-digital City welcomes an Experimental Lab in residence at the Cité des Sciences et de l'Industrie. The Lab is about digital city and urban bio-high-tech agriculture.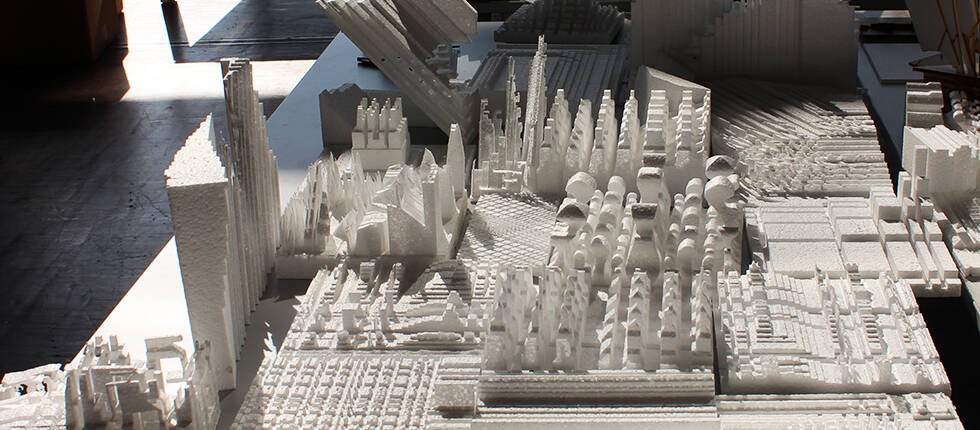 This experimental Laboratory in residence, is open to students and young professionals in architecture, urbanism, landscape, computing, robotics, agronomy, biology, sociology, art, modeling, political science, engineering, urban engineering, geography, design, graphic design, journalism, communication or any other field that deals with the city of the future.

The aims : The purpose is to experience the most advanced techniques in a dense, highly adaptable, highly durable, better livable city, including a high-tech, biological, productive, urban agriculture given the constraints of climate change : a « digital city and bio-high-tech urban agriculture » It is also to facilitate an exchange between students, teachers, researchers, professionals and the public for a reflection and a debate on the issues and the possible developments of our cities and of our territories.
Organization: the Lab settles in the Cité des Sciences' greenhouse. For each of the three sessions, it brings together 5-10 residents working in teams
1st session :
Deadline for application :
2nd session :
Deadline for application :
3ème session :
Deadline for application :
How to apply
Applications from multidisciplinary teams are encouraged. For further information on the program, the conditions of participation, or to get the complete rules of this call for applications, contact : Workshop-LaboEnResid(at)universcience.fr
- a text (maximum 2000 characters), specifying your motivations, the main points you plan to develop within the theme, the links you already established between your specialty and new digital tools.
- A summarized resume in 10 lines with your work related to the theme. You can attach : illustrations, maps, drawings, texts …

Some trainees may be selected to participate in the Lab, or in its organization and its communication. These project or research training have a duration of 3 to 8 weeks. They will be validated as part of the curriculum in schools and universities of origin.
You are a professional concerned by the new urban approaches : the specific terms of registration will be forwarded upon request to: atelierbionumerique (at) gmail.com
Partners
The International experimental Studio for bio-Digital City, led by Claire Bailly, landscaper, urban planner, architect and teacher, and Jean Magerand, landscape architect, urban planner, architect, Ph.D. director at the Faculty of Architecture of the University of Mons.

Professors from Yeungnam University (South Korea), National School of Industrial Creation (ENSCI), National School of Architecture of Montpellier, Faculty of Architecture of Mons University (Belgium) will participate in the supervision of the Lab.