UNLOCKING KNOWLEDGE. PROMOTING THE CULTURE OF SCIENCE.
Universcience was created in 2010 when the Cité des sciences et de l'industrie joined forces with the Palais de la découverte. It had one simple yet challenging goal: to inspire as many people as possible to be curious about the world around them, encouraging them both to marvel at the world of science and to engage in scientific reasoning.
1. The story
Created by a ruling of 3 December 2009, the public body of the Palais de la Découverte and the Cité des Sciences et de l'Industrie, also known as Universcience from January 2010, is an industrial and commercial public body, placed under the joint responsibility of the Ministry for Higher Education and Research and the Ministry for Culture.
Its creation confirmed the union of the Cité des Sciences et de l'Industrie and the Palais de la Découverte and constituted a significant change in the French cultural landscape.
As well as an alliance between two of the key players in scientific and technical culture, the creation of Universcience reflected the desire of the public authorities to respond to major social concerns.
In a social context marked by the paradox of a worrying lack of enthusiasm for scientific studies and careers, while technology becomes ever more entrenched in our daily lives, it is essential to reconcile science and technology with our culture and our society.
Beyond its primary task of making science accessible to all, Universcience intends to take on the challenge of communicating and sharing knowledge in a more innovative and appealing way. In order to do this, Universcience is committed to bringing all aspects of scientific and technical culture to life, including the cultural, educational and artistic aspects.
The values of discussion and exchange, high standards, engagement, inspiration and creativity guide each of its activities.
2. The plan
Universcience offers guidance for every citizen, of any age or educational level, in their understanding of the world, by decoding the great scientific principles such as technological advances. This means providing accurate reference material so that each person can be fully engaged and responsible for their own choices.
By working to inspire passion for science and technology from a very young age, Universcience also hopes to encourage young people to take up scientific studies and careers as a priority to promote a dynamic economy and social cohesion.
This universal objective of putting science and technology at the heart of our culture and society once more also means reaching out to new audiences, supported by resources available on the internet and making full use of the potential of digital technology and innovation to develop new approaches which are both creative and participative.
Universcience is also committed to using its regional and international expertise and knowledge to support networking among science culture stakeholders, increasing the profile and the impact of scientific and technical culture, particularly on national and European public policy.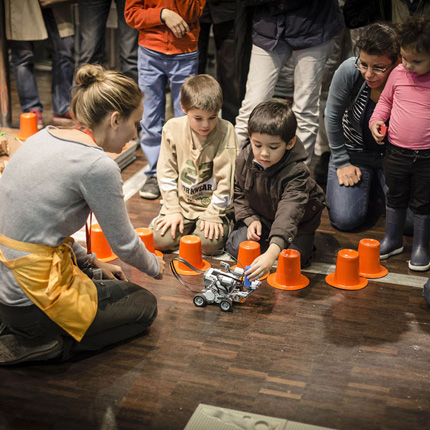 3. Actions, expertise and knowledge
Share your love for science and technology
The cultural provisions of Universcience were designed in close collaboration with the scientific community. They are enhanced by on-site staff at the Cité des sciences et de l'industrie and the Palais de la Découverte, and have multiple regional and international provisions, suited to different audiences and based around:
exhibitions accessible to all
conferences, debates, events, publications
spaces designed specifically for children at the Cité des enfants, services at the Cité des métiers and Cité de la santé, and documentary resources from the Science Library
experiments with innovative tools at the Fab Lab and the Living Lab
Support for teachers, pupils and students
In accordance with its goal of raising awareness of science, Universcience also provides inspiring educational material for teachers and students, and actively contributes to discussions in France and abroad about the teaching of science both in and out of school.
Leading, collaborating
With its recognised expertise in museum studies, Universcience also belongs to national and international museum networks, and engages in collaboration, partnerships and sharing of knowledge and expertise with science culture professionals in this region and throughout the world.
Universcience establishes links and develops projects with partners from the research, university, education, culture and business communities. Large French and international groups, companies, federations and research organisations which share the values of Universcience belong to the Universcience partners donation fund to support its projects.